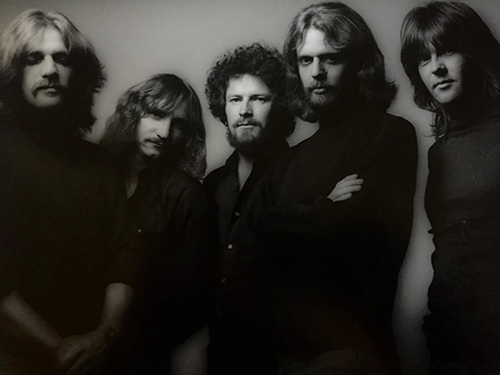 One day in the very near future, an ambitious free market economist at the University of Chicago will scoop up an easy Nobel Prize pointing out the correlation between music sales and the Zeitgeist of an era: Ask ChatBot about "the 60's" and up will come Joanie Baez, protest, and Dylan; try the "70's," and out will pop the Eagles and that easy, peaceful feeling of California. In fact, it was Glenn Frey who sang lead vocal on "Peaceful Easy Feeling," and co-captained the band with drummer Don Henley, who told journalist Ben Fong-Torres: "We didn't set out to be a band for all times. We set out to be a band for our times. And sometimes, if your good enough to be a band for your time, you become a band for all time."
Frey was from Michigan and raised in a small Detroit suburb, the son of a machinist in a shop that spun equipment for the auto industry. A rebellious teenager, Glenn grew up watching the films of James Dean and reading the novels of Jack Kerouac who, in his turn, had celebrated the open road freedom of California.
Early on, Glenn taught himself to play guitar and formed a band–appropriately called The Subterraneans, after a Kerouac novel–that played local gigs. After a stint at a JC, Glenn headed for LA in the summer of 1968, at 19, with his guitar and bundle of dreams.
Even then, no one needed AI to know the music business was a crapshoot. For two years, Glenn haunted music offices and hung around the clubs along Sunset Strip, hoping to get a gig. Finally, he was signed to a small record label and released an album that went nowhere.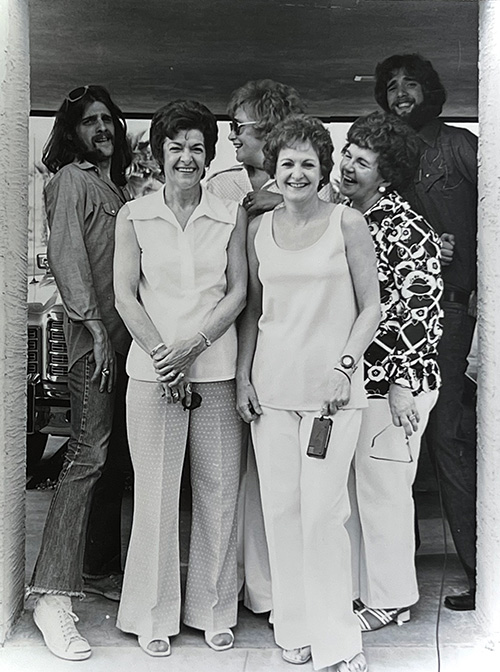 One of the clubs Glenn frequented was the Troubadour where he met John Boyland, the manager of a pretty young singer named Linda Ronstadt. Linda had scored a hit with "Different Drum" and was looking to leave her band to go out on her own.
Boyland hired Frey to play rhythm guitar and sing backup on Ronstadt's upcoming tour. Glenn recommended a friend from the Troubadour, Don Henley, a talented Texan, who sang and played drums. According to Fong-Torres, Boyland brought a number of already established musicians onboard, including Randy Meisner, a bass player (1946-2023), and Bernie Leadon, a bluegrass artist who had played with the legendary Gram Parsons.
All four were together on stage only once, as the backup band kept changing; it was a one night stand at Disneyland, but the vibes were there, and by the tour's end, they decided to form a band: Eagles, a name Frey supposedly chose–in the rock world there are often multiple versions of a story-- because it sounded like a street gang.
By 1972, the band had an album which included "Take It Easy," their first big hit, which Frey wrote with Jackson Browne, along with "Witchy Woman," a Don Henley-Bernie Leadon composition. Jack Tempchin, a friend from San Diego, contributed another song, "Peaceful Easy Feeling," and the Eagles had their sound, country rock with its images of high desert sunrises and break-your-heart girls.
Frey and Henley proved a good team; over the next eight years they had a string of hits that eased into classics: "Tequila Sunrise," "New Kid in Town," "Lyin' Eyes," the last of which Frey wrote and sang lead on. The song, it was said, was about a Playboy model that he had been dating.
It never hurts a rock band to have a sharp agent–and the Eagles found one in Irving Azoff, a University of Illinois dropout who had mastered the science of entertainment deals. "To get his clients top dollar," Cameron Crowe of Rolling Stone wrote, "he'll rip up a contract–yell, scream...."
In 1976, the Eagles released Hotel California, an album that sold 32 million copies worldwide. The eponymous title track was written by Frey and Henley and based on a melody by Don Felder who had replaced Bernie Leadon. Frey later said the song represented "a weird world peopled by freaky characters"–and that, too, captured a side of LA and Southern California.