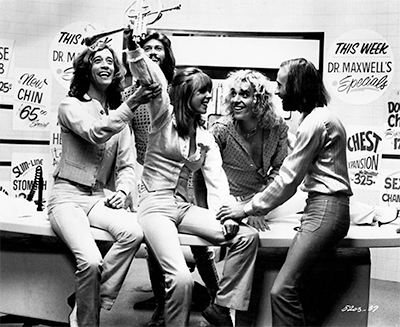 In art nothing succeeds like imitation–and one vogue (or craze) quickly follows another. So it was in the early 1960s that a scruffy Liverpool group named themselves the Beatles after a Texas band, the Crickets, whose lead singer, Buddy Holly, they admired–and rode to international fame.
Not long after, a family of brothers named Gibb began playing Beatles tunes in the Australian outback–and writing songs of their own. Their father sent a demo tape to the Beatles manager, Brian Epstein, who passed it along to Robert Stigwood, an employee of the Epstein family record store, who then signed up the Gibb brothers: Barry and the fraternal twins, Maurice and Robin.
A song by Barry, "New York Mining Disaster 1941," was mistaken by London DJs as a new Beatles tune and given wide air-play–and the group was off with a string of hits- "To Love Somebody," "Massachusetts," "I Started a Joke"-that was to land them on top of the charts in England and America.
But, alas, music–or rock and roll–is a business, as well as an art, and by the 1970s heavy metal drowned out the smooth harmony of the Bee Gees–and the rest of the "British invasion;" and, like other rock groups, including the Beatles, the brothers were plagued by drugs, inflated egos, dissension. Brother Robin, who had written "I Started a Joke," left the group, then returned. Key musicians, including drummer Colin Petersen , departed, until the boys were again playing dinner clubs in England, sometimes covering old Beatles songs.
Barry, the eldest of the brothers, and the group's driving force, began to sing in falsetto and experiment with a synthesizer to capture the pulsating tempo of the disco dance craze then sweeping America.
It was at this time in 1977 that manager Stigwood (1934-2016) showed up at a recording studio in France, a converted castle, where the Bee Gees were working on a disco album, and asked them to lay down a sound track for a movie he was co-producing.
The film was loosely based on a story that had appeared in New York, a slick weekly magazine, about an Italian kid in Brooklyn who lived to show off his Saturday night dancing, but whose mother, in the best Hollywood tradition, wanted him to be a priest. (Apparently, screenwriter Norman Wexler failed to survey Mama Cuomo in nearby Queens who was advising her son, Mario, on running for mayor.)
The film was almost completed. John Travolta, a young television actor, had given an energetic performance as the weekend dancer, and Karen Lynn Gorney was convincing as his love-struck partner. But the soundtrack, including numbers by Stevie Wonder that Travolta had danced to, lacked the zest Stigwood needed.