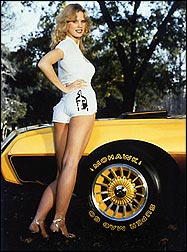 Unhappy Cinderella
......
Dorothy Stratten, Vancouver, B.C.
Vancouver, B.C.: It was a city built on railroads, mining, timber--turn of the century fortunes made by Canadian business barons whose Victorian mansions faced the snow capped peaks of Mount Seymour. As the region prospered, new communities sprang up, like Coquitlam, a town that grew up around a lumber mill on the banks of the Fraser River. Coquitlam--"stinking with fish slime"--is the name the Indians gave the rough, densely wooded forest.
But by the 1960s, the city had become a bedroom community for the surrounding area: solid, suburban, middle class. The city history proudly notes: "Coquitlam began the post-war era with major growth as roads were cut into the bush to open up new areas...The new Lougheed Highway was completed...resulting in an increased flow of traffic through the municipality."
It was in Coquitlam that Dorothy Hoogstraten grew up, and, in 1976, entered high school. She was already a beauty-- darlingly blue eyed, blonde, voluptuous. An early male admirer, Jeff Staudacher, described her as being "wholesome" and "sexy" at the same time. To earn spending money, Dorothy took a part-time job at a Dairy Queen in Vancouver, and it was there that she met a local promoter, Paul Snider, who sent her photo to Playboy.

A year later, renamed Dorothy Stratten, she was a Playmate, living at the L.A. mansion. But Hollywood, and the dream of stardom, proved illusive: Hef, and even some of her fellow Playmates, were a little too friendly, and the deadbeats who freeloaded at the mansion were single-minded and bores. After being selected Playmate of the Year, Dorothy was sent on a promotional tour. It was an unhappy trap: Cinderella wanted the fame and glamour--but without the nudity. Chairman Hefner had a different idea. Then, in 1980, Dorothy Stratten was brutally murdered by the promoter whom she had married. She was only twenty years old. Supposedly, Snider was jealous over Dorothy's affair with a young Hollywood director who had cast her in a movie.


Yearbook photo
1977
In Coquitlam, Dorothy Stratten had attended Centennial High School, a large suburban school which then had about 1,200 students. A friend, Leslie Buchanan, recalls: "I remember being in a typing class with Dorothy. She was taking a lot of business classes as we called them. I do remember her being friendly but quiet, and always looking good in her Seafarer jeans. She wore clogs, too, which I wasn't sure if it was because she was Dutch or because they were 'cool' at the time."
The sixties were over, and the Doors and Stones had been replaced by KISS, Canned Heat--heavy metal bands. Leslie remembers that girls dressed in tight T-shirts and wore their hair like (a young) Farrah Fawcett. Drugs were available: lots of students did "acid as well as marijuana."

Dairy Queen where Dorothy worked

Centennial classmates remember Dorothy as "sweet and kind." Someone who had a lot of girlfriends and a pre-Snider boyfriend whom no one is able to recall. "The crowd that Dorothy hung out with were party people," Leslie remembers. "They weren't the sports crowd, just kind of a very cool group."

In between typing classes, Dorothy and Leslie would chat--talking about school and typical teenage subjects: clothes, music, boys. Leslie recalls: "The picture of Dorothy I have my mind's eye is of her in the hallway looking her very beautiful self and wondering how some girls could have that much going for them. I guess I was wrong, but 23 years ago those were my thoughts."
(This story inaugurates a regular American Legends feature--a look at the hometown behind the legend. Brandon Yip, a Vancouver writer, conducted research and interviews. Also, background information was obtained from Peter Bogdanovich's memoir of Dorothy Stratten, The Killing of the Unicorn, New York, William Morrow, 1984.)